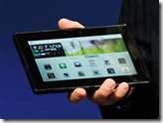 As Research In Motion makes moves to release its new tablet named PlayBook early next year, there are a few good things and few bad things their main competitor – the Apple iPad – should be taking note of.  For beginners, the specifications studied and released finds the PlayBook geared for the business enterprise space, but lacks in certain areas for both the consumer and the business enterprise space.
Let's start with the GOOD things listed:
The PlayBook has two cameras. A 3-megapixel user-facing camera and a 5-megapixel rear-facing camera.  The rear-facing will ready out of the box to shoot 1080p HD video.
The PlayBook has both MicroHDMI and MicroUSB ports, which makes its easier to share content with other devices.
The PlayBook has top-grade enterprise-level security, largely based upon its Blackberry security and policy controls.
The PlayBook has a smaller 7-inch display, which makes its easier and more portable to carry around in your pocket or purse.
The PlayBook has 1-GHz dual core processing power with multi-symmetric processing, making it faster than the iPad single-core processor – at least in theory.
Now lets talk about the BAD things listed:
The PlayBook only have Wi-Fi and Bluetooth for internet access, although RIM says a 3G wireless version will be available the second half of 2011.
The PlayBook will have fewer native applications to offer its consumers than what the the Apple's App Store has to offer from Day One of its iPhone or iPad debuts.
The PlayBook will be based on the fairly unknown operating system QNX.  The reliability or trust of each a new unproven OS may be problematic for many potential users.
The PlayBook will not be useful for navigation and directions since it has no GPS (and cellular plan).  In a world with GPS locators offered by default on some of the smallest devices, such as cell phones, this lack of feature will seem to be inexcusable for many potential users.
The PlayBook will offer only 32GB storage, which in all tense and purposes may work for most users.  However in comparison to the iPad which boasts up to 64GB on some units, this will be seem questionable to many potential users – once again.
Although The PlayBook will be Research In Motion's first fray within the tablet space, it may still be worth a look for early-adaptors.  Depending upon the price point in which RIM place their units, users may flock to its GOOD features and deal with the BAD considerations on a case-by-case basis.  Will this be the iPad killer?  No.  Will it give the iPad serious competition?  Profoundly, yes.  Stay tune to see how this battle heats up over the next year.